Parrot Outreach has a retail section at our location!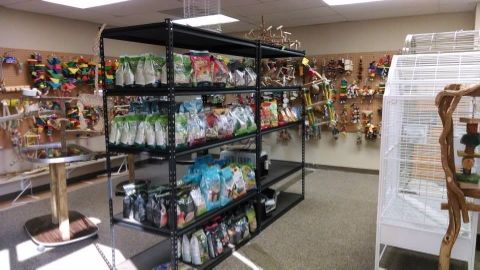 Parrot Outreach has a retail section at our adoption center.  There you can purchase/order cages, play stands, food, toys, perches, etc…   We also provide grooming.  Any need that your parrot or bird may have, we can provide.
Come on over and pay us a visit.
1205 Elizabeth St., Unit I
Punta Gorda, FL 33950
941-347-8876
Tuesday through Fridays 10a – 5p 
Saturday 10a – 4pm  
Closed Sun. & Mon.
Parrot Outreach Society now carries T-shirts!
You can purchase yours for $20.00.  All proceeds goes 100% to the birds.  They come in light beige and sage.
Sizes are S, M, L, XL & XXL
light beige colored T-shirt
Back                                                   Front

Sage colored T-shirt

Amazon Smile allows you to donate each time you purchase something on Amazon.  Please click the link below to see how to donate today.
http://smile.amazon.com/ch/27-0932623
Below is the link to our Amazon Wishlist if you would like to donate products for the birds.
 http://www.amazon.com/gp/registry/wishlist/2FH3EE4QPC05/ref=topnav_lists_1